If you have any questions, pls contact us via WhatsApp +852 62981255
Hotkicks Tell You The story about the Air Jordan 4!
Jan 11, 2023
Hotkicks
Tell You
The story about the Air Jordan 4!
Air Jordan 4
called it the first combination of nylon and leather. Designer Tinker Hatfield first proposed the concept of sneakers. The design has some shadows of the third generation of Jordan. The design of the combination of leather and nylon mesh was very popular at the time. The main purpose is to reduce the weight of the shoes. Improve wearing comfort. This shoe adds a fixing device extending from the upper to the upper, which is connected to the shoelace. The 4th generation still uses the exposed rear palm air cushion with a medium capacity, which was already the air cushion with the best shockproof effect at that time. The configuration of the midsole has not changed much, and the configuration of the front and rear separate soles is still maintained. The inside of the shoe uses the highly durable material urabuck. The mesh material, coupled with the obvious NIKE-AIR patent air cushion, makes the style of the three-quarter gang more evolved. The trapeze logo was transferred from the back of the shoe to the tongue, with all black as the main design of the sneaker, which changed the design concept of basketball shoes from then on.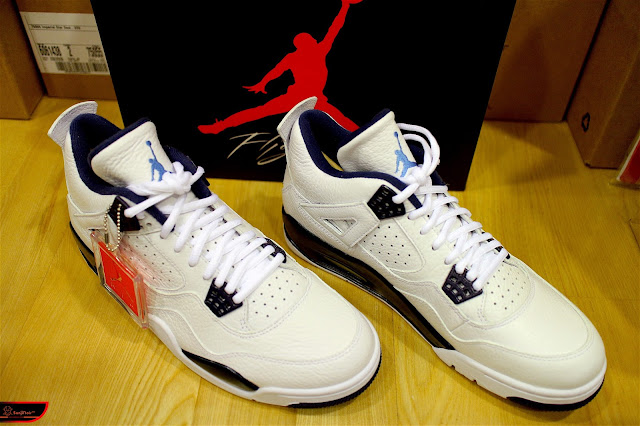 THE SHOT
Air Jordan 4 came out for the first time in 1989. Although Jordan was already a superstar in the NBA at that time, he did not have any championship rings in his hand. Therefore, the historical value of
Jordan 4
was not as high as that of Jordan 11.
But even without the blessing of the championship, Michael Jordan wore Air Jordan 4 in the first round of the playoffs in the 1989-1990 season, but there is a classic buzzer shot in history-THE SHOT!
THE SHOT suffered from the Cleveland Cavaliers with a record of 57 wins and 25 losses in the regular season and the third seed in the Eastern Conference. At that time, the Chicago Bulls led by MJ had a regular season record of 47 wins and 35 losses. Six seeds make the playoffs.And in the regular season, the Cavaliers and the Bulls played against the Bulls a total of 6 times, and the Cleveland Cavaliers won all of these 6 times.Because of this, the Cavaliers, who had an absolute advantage at the time, had a very high voice to win this series. There is an old saying: the ball is round, and there is no absolute winner before the end of time.The series did not go down as expected. Instead, the two teams drew 2:2, and the story of The Shot in the crucial fifth game was born. At that time, the first round of the NBA playoffs was a 5-match 3-win system.
Hotkicks only sells the best fake sneakers!
Contact Us

WhatsApp: (+85262981255)

Gmail: hotkicks.co1@gmail.com

INS: hotkicksco_shop

Facebook:Hotkicks.co
Join our community
Subscribe To Our Newsletter